Doctor & Staff
Meet the experienced and friendly doctor and staff who make Everett Eyecare Center the leading provider of vision care products and services in Everett.
Mark S. Rakoczy, O.D.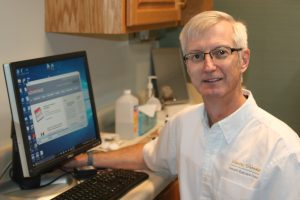 Dr. Mark Rakoczy attended University Pittsburgh at Johnstown and then graduated from Pennsylvania College of Optometry. He entered practice with the U. S. Army  at Ft. Campbell, Kentucky
and received the Meritorious Service Award. He then  began his Optometric practice in Everett, Pennsylvania.
His honors include the Academic Achievement Award, the Clinical Excellence Award and the Bausch and Lomb Contact Lens Award from the Pennsylvania College of Optometry.
As a student, he traveled to Haiti with the Student Optometric Service to Humanity and had gone back to Haiti  each year, since 2010,  with VOSH PA to provide eyecare to those in need.
He is now president of  VOSH PA.
Dr. Rakoczy is a member of the American Optometric Association, Pennsylvania Optometric Association, Southwestern Pennsylvania Optometric Society. He is also a 25+ year member of the Everett Lions Club where has has held the offices of President, Vice President, Secretary, and Treasurer. He has been named a Melvin Jones Fellow, the Lion's Club's highest honor. He has helped to raise funds for Optometry Giving Sight by running in a 5K race the last few years. He has been a board member of the SouthCentral Blind Association for more than 25 years and has been published in Review of Optometry. Dr. Rakoczy and his wife Pam have three children and he enjoys fishing and traveling.  They have welcomed new grandchildren into the family in the past year.
Pam Rakoczy – Office Manager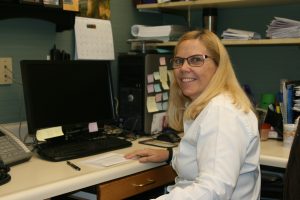 Pam  received her degree in Elementary Education from UPJ. She later joined the practice with Dr. Mark Rakoczy.  She has been past president, vice president,secretary
and treasurer of the Southwestern Paraoptometric Society. Her past community services have included the Everett Women's Club and Everett Free Library Friend.
She loves to spend time with her grandchildren, especially sneaking out to California to visit her son and his family.
Pam is the office manager overseeing the running of the office, is responsible for insurance billing and accounts payable. She is a jack of all trades and will fill in wherever needed. She is also responsible for the visual field testing done on patients. She enjoys reading and traveling.
 Brenda Johnson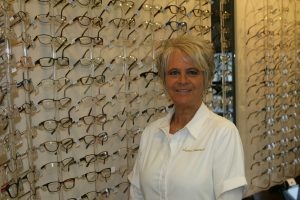 Brenda joined Everett Eyecare in January 2008. She will help you with your eyeglass and sunglass needs, taking into account your facial shape and skin tone.
She brings a great fashion sense to help patients make the proper selection of eyewear and is knowledgeable on all types of products available.
Brenda is married and has 2 children and is expecting her first grandchild in the spring.    She enjoys walking and taking photos in her free time.
Morgan Partner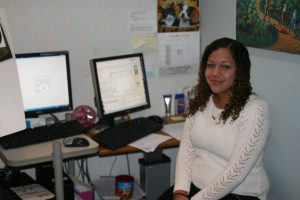 Morgan joined Everett Eyecare in 2016. She is a hit with patients, providing a kind and compassionate manner.
Her duties include pre-exam testing, contact lens ordering and contact lens teaching for those new to contacts,  and specialized testing such as the Optomap and Optical Coherence Tomography (OCT).
She is married and has a new baby boy.  In her spare time, she likes to hike and read.
Vicki Shelley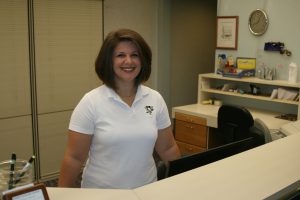 Vicki joined Everett Eyecare in 2016.  She is the receptionist and will welcome you with a friendly smile.  Besides reception, she contacts insurance companies for authorizations, reminds patients of upcoming appointments and lets other office staff know what orders to place.
Vicki is married and has three children.
In her spare time, she likes amusement parks, crafting, and spending time with family and traveling.