Giving Back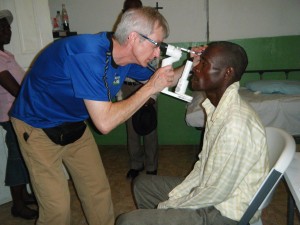 Besides making local donations to worthy causes, Dr. Rakoczy is President of VOSH-PA. VOSH stands for Volunteer Optometric Service to Humanity.  VOSH-PA is the Pennsylvania chapter of VOSH international, whose mission is to provide eyecare & glasses to the materially poor in developing countries through short term missions.  They also help with the training of local doctors and with the development of sustainable eye clinics in these countries.
Dr. Rakoczy has gone to Haiti yearly since 2010, to provide eyecare to those in need.  VOSH-PA currently has 4 missions to Haiti per year serving about six thousand patients per year. They also arrange to have people with cataracts have surgery by associating with local eye surgeons.Glaucoma is also very common and arrangements for long term care for those patients are also made.
Dr. Rakoczy has been a member of the Everett Lions Club and the South Central Blind Association Board of Directors for over 25 years. He has been a part of fundraising for Optometry Giving Sight, an international charity for eyecare, by running in races from 5K to a half marathon in conjunction with the Everett Lions Club. This has raised approximately five thousand dollars for OGS over the last 5 years.